The Montespertoli Museum of Sacred Art is located in the Pieve (Parish Church) di S. Piero in Mercato, Via S. Piero in Mercato in Montespertoli. The works displayed come from the Pieve itself and its dependencies as well as from the churches of the other two parishes of Montespertoli.

The overlap between a large part of the parishes' territories and that of the current Municipality of Montespertoli, allows the displays to be organised on the basis of the individual parishes, grouping paintings, silver work and wooden furnishings from the same churches. The exception is a section for parchments and manuscripts that require special display conditions.

The first room of the museum is the "Salone", which is dedicated to the parish of San Pietro in Mercato. Displayed here alongside the works coming from the parish church and connected to its ancient patrons are paintings, silver work and furnishings from San Lorenzo a Montegufoni, under the patronage of the Acciaioli family (the Madonna with Child by Lippo di Benivieni, a 13 C gemellion (hand basin used before Mass), Roman silverworks donated by Cardinal Niccolò Acciaioli), and also some works from now-vanished small churches.

The museum's second room, called the "green room" because of its wall colour, is devoted entirely to the churches of Santa Maria a Torre and of San Bartolomeo a Tresanti, with paintings, silver work and furnishings from the 17 C and 18 C.

The third hall, called the "yellow room" for the colour of the yellow tapestry, exhibits works from the parishes of Santa Maria a Coeli Aula and San Pancrazio, among which is noted the Madonna with Child by Filippo Lippi and a rare baptismal font in sculpted marble from the mid-12 C.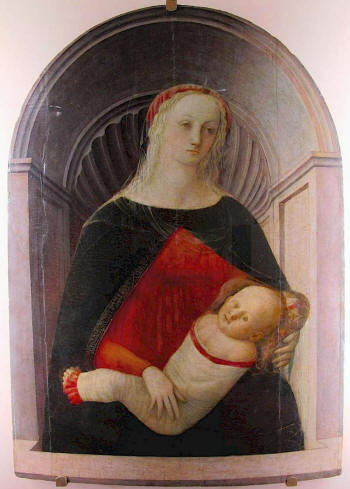 Madonna and Child by Filippo Lippi
This painting comes from the Church of Sant'Andrea a Botinaccio, in the Commune of Montespertoli, and is by Filippo Lippi (Florence 1406?- 1469), dating from the early 1440's. The painting displays a great compositional simplicity and a sense of everyday domestic life without diminishing the sacredness of the image. The sacred quality is achieved by an exceptionally transparent rendering of the halos and the intensity of the figures' gaze. Mary is framed by a niche with a marked geometric structure. Her face, foreseeing the fate of her son, is pervaded by a sense of absorbed melancholy as she props her son's head on a pillow of precious fabric. The Child is wrapped completely in swaddling clothes, according to the custom of the time.
The hall of parchments and manuscripts is further evidence of this area's wealth and also of the Museum's vitality with a recent acquisition – in 2000 – of a 1456 manuscript, Rituale per la benedizione del fonte battesimale del sabato santo (Ritual for the Consecration of the Baptismal Font on Holy Saturday), linked to Francesco Machiavelli.
Montespertoli Museum of Sacred Art
Pieve di S. Piero in Mercato, Via S. Piero in Mercato
Montespertoli
Tel: +39 0571 609500